There are various kinds of Miso and Shoyu and it is one of the most difficult to keep the same taste throughout the year. Because Miso and Shoyu is completed with the help from microbes such as koji-mold (aspergillus), it can be extremely sensitive to seasonal changes, especially environmental changes such as temperature and humidity. Miso and Shoyu are honest creatures just like babies, it is more important than anything to give them a helping hand and affection each time.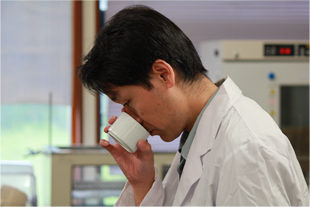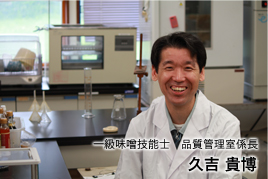 I have been doing this job for nearly 15 years, but to tell you the truth, I still feel that I have no enough experience yet. To pursue the "ideal taste", it would mean to challenge the living being called koji face to face. It is no easy task, and it maybe a challenge you can never surely attain. In such a difficult world, I am very proud to be able to offer superb foods like miso and shoyu to everyone. I am very grateful with Hoshisan's traditional technology which has been handed down for over 100 years.


We inherit the determination and commitment that has been handed down since our foundation as we make our soy sauce with all our soul in every single drop. "Respecting the tradition, and protecting the techniques which have been passed down for generations" means the basics of us artisans to "pass along the conventional taste." Another important thing is to be aware of customers' point of view and to keep producing new products. As the time changes, the taste and preferences on demand will also change. Hoshisan, with a history of more than 100 years, is only possible due to the trust of our customers. We will never forget that and we will keep on advancing forward with them. We keep the traditional methods but at the same time challenge producing new soy sauce to meet the needs of modern people's tastes.


Miso and soy sauce are traditional food with a deep history with its many kinds. Therefore, it is very hard to acquire the skills in only a couple of years. You just have to keep learning from the senior artisans who have more experience in a daily basis. It needs a slow and pertinent effort. You have to learn every characteristic of miso and shoyu; know how they grow deliciously and how to promote them better if their growth is unfavorable. I myself have done many trials and errors and thus accumulated experiences. Miso, after all, is a living thing. It is important for us to listen to them, and learn from them everyday.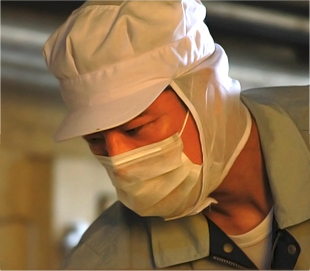 There is an ancient proverb which goes, "koji is the the first priority, steaming is the second, and preparation is the third". For Miso, Koji is the life itself. We help Koji to grow for three days straight, day and night. Miso is a very delicate being. We have to use all the senses: eyes, nose, tongue, finger tips. Then as we listen to them, we can understand them. Is the temperature all right? or enough water? and so on. We warm heartedly watch them and bring them to completion. When it is time for shipping, after a long time of production process, we are very happy to see them off.

You may have heard of "seijuku miso" or aged miso. If you age miso for a long time, saltness will be lightened, the roughness will be gone, and the taste will become more harmonized. Since sugar will be broken down after a long period, and so miso will have more body and mildness. Did you know that we normally don't eat Natto? Bacillus natto also help promoting our health so it is an important partner for men, but the bacillus has such a strong individuality, they may cause the taste of Miso to change. So we are very careful not to have that happen by not eating natto at home.